Kit Erksine, VT & All American "Lil" (FUNdamentals Alumni)
Lil and Kit had their training debut at Julie Daniel's fundamentals camp. It is three days of learning and training for dogs at levels ranging from total rookie to pre-novice. Kit says:
"I had done very little with Lil this winter. A bit of basic stuff: Downs, stay, a very tiny bit of jumping in the living room. So I was not sure what we were in for when we went off to camp.
We started right in with "find the hole" tire, tunnel and chute. Lil had never seen any of these. By the end of the day she was racing through curved tunnels, jumping through the tire and getting started on the chute!!...Each day we made progress....We got a scary fast dogwalk, Aframe and our teeter is coming along!.....We even did a four obstacle sequence! There is so much to learn about training a dog..."
"So I guess it is a bit obvious that I am VERY thrilled with my young girl. She will force me to be a better trainer that's for sure."
Ista, NATCH, V-NATCH, TN-N, CL-4, AAD, CGC
Marcus, NATCH, V-NATCH, S-EJC-V, TN-N, CL-3, AAD, CGC
(Instructor Certification Graduate)
"Frankly, I initially decided to attend Instructors Camp to "get the piece of paper" in the form of the Instructors Camp diploma, but I left with so much more. First, we had a blast ourselves – that goes for me, and my two dogs. Even my oldest "one person dog", who I thought would be tired, dragging, and demotivated by the last day, was quite the opposite, excited, barking, ready to go for every exercise, right down to the last hour, having a grand time with whoever would work with her. For me, I had a chance to go deep into the teaching of agility fundamentals, and in the process re-learned just how much fun that can be. We also got some quality time in order to better understand and fine-tune our clicker training skills, and also covered some important "tactical" info on encouraging and handling students and classes. Maybe the best testimonial is to say that I have found myself so often using or sharing Julie's principles and tips with my own students! In addition to listening and working hands on with many dogs, I wrote lots of notes and purchased some other materials … all of which continue to serve me very well. I am so glad I went, it was a terrific experience for all three of us, and hopefully I'll be back for another camp some day. Julie's site is a piece of agility heaven (the BEST indoor running surface we have EVER experienced, hands down!), the food was awesome, and of course, the instructors of the instructors were simply the best!"
MACH Sayre Making The Grade (Grady) O-EAC, O-EJC, OGC, CGC
Rikadon's Risky Business (Risk), Wild Child In Training
Gambling Buddy Maverick (Mav), NA, OAJ, NGC, NJC, CGC - Retired
(Intermediate Camp Alumni)
"I attended WMA for the first time with my sheltie, Grady, about 4 years ago. Before we attended WMA, I thought we were a team - I didn't realize that we had barely scratched the surface. Although we learned many handling skills, the most important thing we took home from camp was a true bond. Those days hiking and learning and learning and hiking (and yes, I learned to draw the dog's path!) not only gave us the skills to move to the highest level but created a relationship that has taken us over some tough courses and through some tough times. The bond that began at WMA has deepened over the past few years until we reached the pinnacle of success when Grady became MACH Sayre Making The Grade. I've attached a photo of Grady after he finished his 20th QQ.
Thanks, Julie, for all your help, advice, and just plain encouragement. We couldn't have done it without you - you were always there for us! Hopefully in a few more years I'll be writing a thank you detailing my "baby", Risk's accomplishments."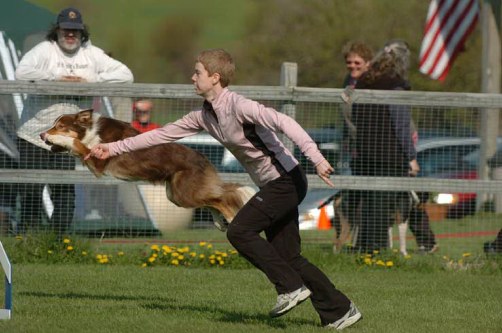 "I adopted Blaze in March, 2003. He was 2 years old and I am his third home. Five days after he joined our pack, we attended a beginner agility seminar with Julie at WMA. It was just the start we needed! So much for the "sound sensitive, shy" description on Blaze's adoption papers!
Blaze & I continued through FUNdamentals, Wild Child and Intermediate Camps in 2003 and 2004. The biggest thing for Blaze was jumping. He was convinced it was a contact sport! He also measured 21.5 inches so would be in the 26" jump height. Uh Oh!
Thanks to WMA and Julie's book, Jumping from A-Z, in June of 2005, after only 3 months of competing, Blaze already had his ADC, SGDC and AD titles and had qualified in his first GP and DAM tournament. He also placed in his very first AAC Regional championship and qualified for the AAC Nationals. We are planning on doing WMA camps each year - there is always something new to learn (and Blaze sure loves the pond!)"
Dee Crofton and Caper (Intermediate Camp Alumni)
Dee describes her first AKC Open trial, about 2 weeks after WMA Intermediate Camp, where she and Caper earned 3 Q's! Dee says, "... I think I gained a lot of confidence in him at your camp, I entered the ring knowing he was capable of qualifying, and he did. I had plenty of compliments on his performance, and questions about where I got him. I truly think my experiences at camp were very helpful in helping us have a successful trial. Caper and I are learning how to use his toy and swimming drive to our advantage in agility, and I appreciate you gearing a session to "using your distractions as motivation". I am sure Caper's love of the water was your motivation for that one!! Everyone at the Camp was so helpful, we are coming back next year. One thing I really loved was that instructors were willing to work with everyone, not just the high drive Border Collies. Everyone got equal and special time with their dog to get help with whatever their particular need was. Thank you again."
Lee Alger (Instructor Certification Graduate)
I want you to know that I learned so much at your instructor's camp. Not just about agility, but a lot about myself and what I want my training style to be. Last weekend I introduced 11 kids/adults and their dogs to basic agility. (Thank God, they arrived in two different waves of people and dogs!) We covered clicker training (the day's goals were "clean click/treating" and low-stress training "watching for happy dogs") and an agility ladder, tippy plank, opened channel weaves and open (shortened) tunnel. It was wonderful to see folks who said "oh, he'll NEVER do that" go from that phase to "look at him, he's ENJOYING this!" It was very rewarding for me to see the joy on their faces as they worked with their dogs. After everyone knew the rules and proper training procedures, we let them "play" on the equipment. Chaos reigned – it was absolutely beautiful, just as you said it would be.
At the end of our session everyone received clickers with wrist coils and a card that Ken made for me. It was our way of saying "thanks" for playing agility. Many of the folks want to know if we'll be doing classes. If we can find a place for the winter months that doesn't cost too much, we may try a six week beginner session. We'll see how it goes.